Top 6 Best Sand for Pavers — Most Recommended Paver Joint Fillers for Your DIY Project
*As an Amazon Associate we earn from qualifying purchases. The price to you remains the same.
I have a soft spot for a good outdoor DIY project! Whether is a sandpit for the kids or a corner of the garden dedicated to outdoor entertainment, I am always looking for things to do that are within my reach!
Landscaping can make or break your home's curb appeal. And who doesn't dream of a backyard patio that's both comfortable and stylish?
For the easiest and longest-lasting paver joint filler, we recommend DOMINATOR Polymeric Sand. This product offers all of the strength and durability of a professional formula and can be used in paver joints up to 4 inches wide.
Looking for something a little different? Keep reading to learn about the best sand for pavers and find the right formula for your DIY project!
Our Top Picks
Best Overall
Features
Weather-resistant polymeric sand formulated for joints up to 4" wide
Best Overall
Our Top Picks
Features
Weather-resistant polymeric sand formulated for joints up to 4" wide
Best Sand for Paver Joints in 2023
Best Overall – DOMINATOR Polymeric Sand
DOMINATOR Polymeric Sand
Weather-resistant polymeric sand formulated for joints up to 4" wide.
Some of the best landscaping products are only available to contractors and other professionals. Luckily, DOMINATOR Polymeric Sand is not one of them. This sand for pavers is available to homeowners and DIYers of all kinds.
One of the biggest selling points of this polymeric sand is its CERAMIC FLEX technology. This specialty formula allows bonded joints to flex and self-heal throughout the product's lifespan. 
DOMINATOR Polymeric Sand can be used to fill paver joints up to 4 inches wide. It must be applied at least 1-inch thick. You can order this polymeric sand in five neutral colors and several different package sizes to suit almost any home project.
Best Premium Sand – Flexlock Ultra G2 Intelligent Polymeric Sand
No products found.
For the average homeowner, ease-of-use is a top priority. The Flexlock Ultra G2 Intelligent Polymeric Sand formula offers a hassle-free application that's simple enough for even inexperienced DIYers.
Unlike most other polymeric sand formulas on the market, Flexlock Ultra G2 Sand requires just one watering to fully activate. It's also rain-safe within 15 minutes of setting, which can be a lifesaver in temperamental weather.
Flexlock Ultra G2 Intelligent Polymeric Sand promises a haze-free finish and can be safely applied without using a blower. It can be used to fill gaps between 2 and 4 inches wide and is available in several colors.
Best Budget Option – Sakrete Paver Set Polymeric Sand

Sakrete Paver Set Polymeric Sand
Affordable polymeric sand sold at many major hardware stores.
Using the right materials will ensure your DIY projects hold up to everything life throws at them. But if you're looking for something more affordable, Sakrete Paver Set Polymeric Sand is an excellent alternative to professional-quality sand.
Despite the budget-friendly pricing, this polymeric sand offers a strong bond that protects against sprouting weeds and burrowing insects. However, this sand can only be used to fill paver gaps between ¼-inch and 1 ½-inch wide.
Sakrete Paver Set Polymeric Sand can be walked on after setting for 24 hours and driven on after setting for 72 hours. Although this Sakrete product is available in several colors, some colors are difficult to find.
Best Dust for Pavers – Alliance Gator Dust Bond
No products found.
Technically, stone dust and sand are not the same things. But for irregular paver joints or large gaps, there's no better polymeric formula than Gator Dust Bond.
Polymeric dust features the same special bonding agents found in polymeric sand. The difference is that this product is made from crushed stone rather than sand particles. 
The crushed stone granules allow Gator Dust Bond to be used in gaps ranging from ½-inch to an impressive 6 inches wide. You can purchase this dust for pavers in two colors: Sahara Beige and Stone Grey.
Best Permeable Paver – Alliance Gator Aqua Rock
Alliance Gator Aqua Rock
Permeable granite filler stabilizes paver joints while reducing surface water run-off and erosion.
Once again, sometimes the best sand for pavers is not actually sand at all. Gator Aqua Rock is the perfect filler for permeable pavers and anywhere else water run-off is a concern.
Ground permeability is a huge factor in sustainable landscaping. Unlike traditional sand, which prevents water from flowing through paver joints, this crushed granite product encourages water collection and prevents erosion.
This product can be applied between permeable driveway, walkway, patio, and parking lot pavers. Gator Aqua Rock can also be used as a bedding material directly under permeable pavers. 
Best Eco-Friendly Formula – Envirobond EnviroSAND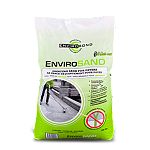 Envirobond EnviroSAND
Innovative polymeric sand made with patented Organic-Lock binders for improved sustainability.
Is polymeric sand causing significant harm to the environment? No, at least that we know of. But if you're interested in supporting the development of more eco-friendly paver sand, EnviroSAND is definitely worth keeping on your radar.
Instead of synthetic polymers, EnviroSAND utilizes a patented binder called Organic-Lock. This binder promises to provide stability and strength while still allowing water to permeate through to the soil underneath. Projects completed with EnviroSAND even qualify for LEED certification.
While EnviroSAND is an exciting development in the world of sustainability, it does have some drawbacks. First, this product is only appropriate for paver joints between ⅛- and ⅜-inch wide. Second, it's not widely available to consumers outside of Canada.
What to Consider When Buying Sand for Pavers
Sand Type
Paver joints can be filled with "regular" sand or polymeric sand. There are pros and cons to each type of sand. But deciding which to use often comes down to personal preference.
Regular paver sand may be sold as all-purpose sand or jointing sand. This sand features coarse particles that grip together and prevent the pavers from shifting out of place. 
Polymeric sand also features coarse particles but with the addition of polymers. When these polymers are activated by water, they expand and join together to form a durable bond between the individual sand and paver edges.
There are many other types of sand on the market. However, these sands are not designed for filling paver joints.
Joint Size
All paver sands are designed for joint gaps of a specific size. Most manufacturers provide both a minimum and maximum joint width their product can be used in. Others only provide a maximum width.
Measure your paver joints before purchasing regular or polymeric sand. If your pavers feature uneven edges, measure the narrowest and widest gaps to ensure they fit within your chosen sand's specifications.
Color
Choosing the right color of paver sand will have zero effect on the joints' durability or longevity. But it can be the deciding factor in your patio or walkway's final appearance.
Most sand for pavers is available in neutral colors like tan, beige, grey, and cream. For greater contrast, look for a stark white or black formula. 
Custom colors may be available from specialty sand suppliers.
Haze
One of the biggest drawbacks to using polymeric sand to finish paver joints is the potential for hazing. Hazing refers to the cloudy appearance created by letting a thin layer of polymeric sand set on the pavers themselves.
Hazing is typically the result of incorrect application. 
However, some formulas are more likely to leave a haze than others. Polymeric sand formulated without cement is the least likely to result in hazing. 
Bedding
For a long-lasting patio or walkway, you need to start with a quality base. Bedding sand is one of the most popular media for building a stable base layer. Gravel, concrete, and dirt are also frequently used.
Not all paver sands work with all types of bedding. Be sure to plan out your project and materials from start to finish before purchasing sand for the paver joints. 
Application
The vast majority of paver sands on the market can be applied with little more than a push broom and (in the case of polymeric sand) a garden hose. Double-check your chosen sand's application instructions for specific guidelines.
Before applying sand to your paver joints, be sure you have access to all of the necessary equipment. 
Coverage
One of the hardest parts of any landscaping project is determining the number of materials needed. Factors like package size, recommended thickness, and joint width will affect the coverage of your chosen paver sand. 
Setting Time
While polymeric sand offers a more durable finished product, it must be activated and set before a strong bond is formed. 
Not only must you protect your fresh paver joints from the rain while everything sets but you must ensure the entire area is dry before applying polymeric sand in the first place. This can pose a scheduling issue for those living in rainy climates.
Longevity
Polymeric sand offers a long-lasting bond that's unmatched by traditional paver sands. This is an obvious benefit for the average homeowner installing a walkway or backyard patio they want to last as long as possible.
But this longevity is far from ideal for paver projects that are not designed to last. Using polymeric sand to fill pavers you only intend to use for a year or two is a waste of time and money. It will also make removing the pavers much harder in the future.
Maintenance
Even the highest-quality paver sand will erode over time, especially if it's regularly exposed to wind, rain, and changing temperatures. Fortunately, all it takes is another layer of sand brushed into the joints to restore the look and stability of your pavers.
Polymeric sand requires less frequent maintenance than traditional paver sand. However, repairing damage to polymeric sand-filled joints can pose a challenge.
In many cases, repairing cracked or chipped polymeric sand requires removing and replacing the entire joint. This is significantly more time- and labor-intensive than touching up paver joints filled with regular sand.
Frequently Asked Questions
Can you power wash paver joints?
Pressure washing is one of the easiest and quickest ways to remove buildup and tough stains from outdoor pavers. While you can use a power washer on the surface of your pavers, avoid aiming the water jet directly at the joints. 
No matter how careful you are, using a power washer on pavers filled with traditional sand will likely dislodge some grains. Sand that is accidentally blown out of the joints can be brushed back into place or replaced with new sand. 
Polymeric sand can be gently cleaned with a power washer on a low setting. However, it's still best to leave this task to a professional (especially if it's you're first time using a pressure washer).
What is paver sealant?
Paver sealant is a finishing product applied over the entire surface. Using a sealant over outdoor pavers can prevent staining and color fading.
Some people also claim that applying a sealant over polymeric sand strengthens the joint's bond even further. 
If you are using all-purpose sand to fill the gaps between pavers, consider using a sealant that also works as a joint stabilizer. This product seeps between the sand particles and creates a bond similar to that of polymeric sand.
Does polymeric sand crack?
According to Alliance Designer Products, polymeric sand will not crack without external pressure. In other words, cracking is not just a sign of your polymeric sand joints getting older.
If you notice cracks in your paver joints, they were likely caused by the pavers shifting either side to side or up and down. 
The best way to prevent cracks from forming is to ensure your pavers are installed on a sturdy base layer. This will stop the majority of shifting at the source.
Is polymeric sand eco-friendly?
Although polymeric sand is not the most sustainable product out there, there's no evidence that it's significantly worse than regular sand.
The sand used to make polymeric sand often comes from the same quarries as all-purpose sand.
Polymeric sand can be made using organic or synthetic polymers. These polymers impact the environment to varying degrees. 
Unfortunately, the only way to know the exact source of these polymers is to speak directly to the manufacturers. Following the manufacturers' guidelines for use and disposal is the best way to keep these polymers out of the environment. 
Can you use play sand for pavers?
No.
There is a significant difference between paver sand vs play sand and you should not use the latter to finish paver joints. 
The good news is we do have lots of safe sand alternatives for kids sandbox!
Play sand is made from much finer particles than all-purpose sand. These smooth, small grains don't provide the necessary "grit" to hold pavers in place. Plus, play sand tends to cost more per pound than paver sand!
Last update on 2023-09-26 / Affiliate links / Images from Amazon Product Advertising API